Undoubtedly, the most important part of a glove is the palm. Ho Soccer has a great variety. You can find palms in models of gloves with a lot of grip, resistant gloves, gloves for training, gloves for wet weather and many more models, which allows us to have a collection of gloves that adapts to all the needs of goalkeepers.
New high quality palm included exclusively in certain Elite range models. In this new palm, a latex formulation with a very high level of grip, especially in dry terrain, has been achieved after a long process of R&D, which will meet the goalkeeper´s needs at the highest level. A type of palm activated from minute 0, which will provide an optimal grip throughout its useful life, once the plastic protection that covers it is removed to avoid dirt and adhesions until the glove arrives at the hands of the goalkeeper.
New latex formulation with excellent properties which result in a high-level palm that will cover the needs of the most demanding goalkeeper in any type of terrain, both in grip and cushioning. This palm will also provide an extra grip on wet ground, since it has been thoroughly tested in extreme humidity conditions, adapting perfectly to the grip level on the latest types of balls and playing surfaces.
Our top palm included in the Profesional models of the collection and an excellent choice for goalkeepers at a professional level. In this palm the purity of the latex is of the highest quality and covers all the high-level goalkeeper ´s needs, both in dry and wet terrain. A palm that has been tested in the professional field and adapts perfectly to the new technologies/surfaces of balls within the market.
This type of palm is within the high-performance ranges, where the purity of the latex is more and more important. That is why this palm is of high quality and very versatile, since it gives us great effectiveness, great grip and good performance both in the dry and in the wet weather conditions.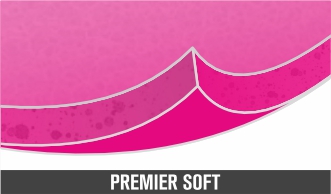 This palm formulation from our collection is always characterized by its colored palm. We are talking about a latex quality palm, very similar to the SSG in terms of grip properties; only in this case it increases or adds a plus of durability. We are looking at a very interesting palm for its use in any type of terrain.
This type of palm is the one we find in the "mid-range" models par excellence of the brand and a type of palm with a very good balance between grip and durability. It is also a type of palm that, due to its characteristics, will give us very good sensations even when used in matches.
Leaning on the SSG (SUPER SOFT GRIP) latex base, this new palm incorporates extra grip paint inserts, which provide better grip.
This UCG palm will provide a perfect balance between grip and durability, a very good glove choice to combine between trainings and matches. It would be a step above the previous, being ideal especially for matches and up to a certain level from adults to children, since it is one of the best quality palms within its range and is available in this case in small sizes, specifically in the ONE model family.
If what you are looking for is durability but with certain grip sensation, this is your palm. This palm increases its latex purity in the formulation, with a more than considerable 2 mm. thickness. Offering resistance, but with greater grip in this case and that can be found in the INITIAL collection.
To the current HARDSOFT palm, which is the entry-level palm par excellence, durable but already with certain grip sensations, thanks to the latex incorporated in its formulation, this new developed variant is now incorporated. In this new version we find extra-grip paint inserts, which increase the grip of this palm, being a very good choice for the smallest goalkeepers of the family who begin their evolution.
If what we are looking for is the greatest palm durability from our collection, the most recommendable palm is undoubtedly the DURAGRIP, from our BASIC PROTEK collection. This is the lasting palm par excellence. It is made with an exclusive formulation of synthetic latex that guarantees a high resistance on any surface. Obviously the grip has been limited to favor durability first and foremost.