I WANT GLOVES FOR ARTIFICIAL TURF
One of the most common inquiries among our customers is about which gloves to use when playing on artificial turf or synthetic fields. Here you can find the most recommended gloves for playing on these types of terrains
This is one of the most common requests we receive from customers. At the same time, it is one of the biggest headaches for specialized brands in goalkeeper gloves like Ho Soccer: creating gloves for artificial turf or synthetic fields. But it's not an impossible task.
As we know, the higher the quality of grip in the glove, the lower the durability of the palm, something that complicates the use of these models in the Professional range on artificial surfaces. At Ho Soccer, to address this issue, we have created a specific section for this type of gloves designed for playing on artificial turf. The section is called "Artificial Terrain," where you can find gloves of all ranges and types for grass or artificial terrains.
Within this category, you can find gloves from the Elite range, mid-range, basic, or training gloves, to gloves with protection.
If you're looking for a durable Professional range glove, we have the Warrior Shield. This model may have the best palm that combines grip and resistance. The Warrior models are the preferred gloves of our professionals.
Then, within the Mid-range, you have an SSG with a Shield palm and a First with the same palm. As you can see, the Shield palm is one that Ho Soccer has developed after years of experience with the idea of providing an optimal solution to palm wear in Professional gloves. It's possibly the best palm on the market in terms of grip/durability.
The novelty this year is the Beast models. These gloves, equipped with a synthetic palm, are the first goalkeeper gloves conceived 100% for artificial turf or synthetic terrain. They come equipped with a very resistant synthetic palm and also have an innovative construction within the Basic or Training range within the brand.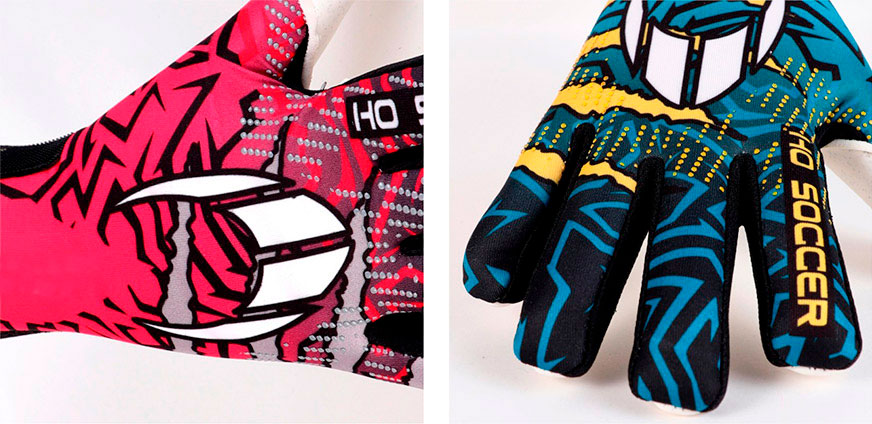 The Beast models are becoming a success among our customers. With this, we realize the importance of goalkeeper gloves for artificial turf.